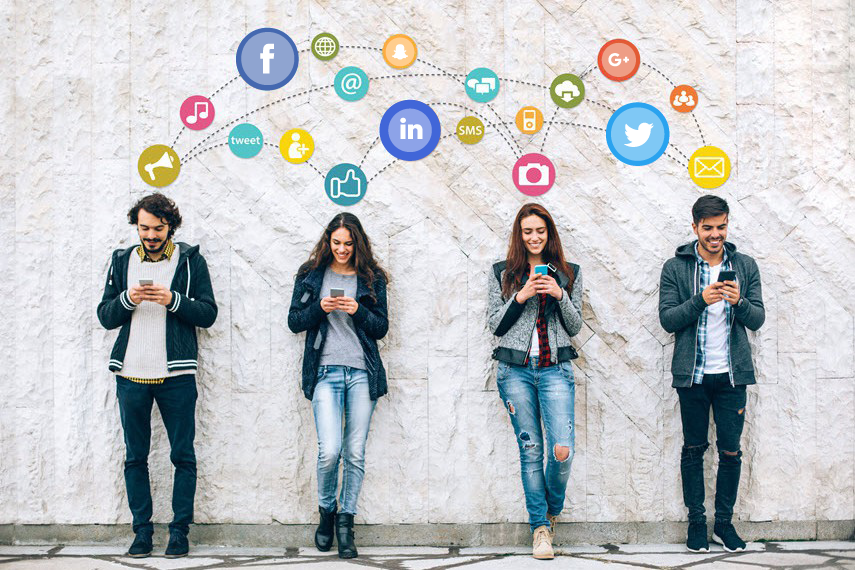 Your brand needs to play an active role in the online social community to have any bearing in commerce today. Being social includes not only your social media efforts as a brand but the way your audience engages with your content. The goal of social media marketing is to spread brand awareness, and to present a vehicle to connect with your customers in a meaningful way. The way to do this is to build an online social community for your brand. Use this post as a jumping-off point to create yours. Have faith that if you build it, (consumers) will come!
How Important Is Having an Online Social Community?
According to statistics, 92% of business-to-business (B2B) marketers in North America include social media in their marketing efforts, while 68% of small- and medium-sized enterprises (SME) do the same. Such a large percentage of businesses have joined the social scene because that's where today's consumers spend a significant amount of their time. On average, almost 60% of U.S. consumers interact with brands on social media at least once per day. You don't want to miss out on such a significant opportunity to connect with your target audience.
Consumers aren't just passively coming into contact with brands on social. They are actively engaging with companies and expecting them to return the sentiment. Based on research from The Social Habit, 42% of consumers expect a response within one hour of contacting a brand on social media for customer support. Thirty-two percent expect a response within just 30 minutes. More than half (57%) of respondents said they expect the same response time at night and on the weekends.
Building an online social community means welcoming conversations with customers via your chosen social channel. These conversations cannot work one-way. You must dedicate time, resources, and energy to cultivate and keep your community – day and night, business hours and on the weekend. The community dynamic will only work in your brand's favor if you're committed to its success.
Assess Your Company's Goals and Systems
Your online social community must align with your long-term business goals and current systems and processes. The driving force behind your social strategy must be your objectives and the unique needs of your audience. Building a community will only work if you know who you're trying to connect with and how to do so effectively.
Examine your current marketing efforts. Where are they succeeding? Where are they lacking? What are your goals for building your online community? In general, some goals might be to increase organic brand awareness, enhance customer engagement with your company, increase site traffic, and ultimately grow your company.
Identify your specific goals and ways in which you can achieve them. Then, find where your new social strategy will fit within your company. Do you have an inside team ready to commit time to your online social community, or do you need an outside partner? Once you understand the why of what you're doing, you can go about the how.
Choose Your Community
Two main types of social media communities exist: shared and owned. A shared social community exists on a public platform. Your brand will have limited control over the community since you will not own the platform. Examples of shared communities are Facebook, Twitter, and LinkedIn. Shared communities are essential to your company and fueled by relationships with your customers. They provide a unified, standard experience your customers have come to expect on the given platform.
An owned or branded, online community is a private platform that your brand owns and controls. You build and manage an owned community, typically connected to your website. Owned communities generally require consumers to sign up for memberships to join and chat. Examples include Apple Support and Sephora Beauty Talk. You control the data you collect as well as platform management. Specific interests fuel private communities, such as questions about your products. You can create unique activity streams and engineer user experience.
Shared social communities are the most common among small businesses. Social communities require less time and financial investment to develop and maintain. If you have the resources and need to create a private community, however, it can provide features that public platforms cannot. You can custom-tailor your design, gain better access to customer data, and control the user experience. When choosing your community – there's nothing wrong with developing both – depending on your specific business and goals.
Put in the Work
Achieving the "community aspect" requires more than just posting Thumbstopper™ content regularly on social media. First, create your branded social strategy and accompanying roadmap, aligned with your brand's goals for the endeavor. Then, identify what your target audience wants from a social community. Find their pain points and come up with ways in which you will address them in your community. The goal should be to meet your business goals while optimizing members' user experiences.
Next, you will need to attract people to your community and keep them invested. This is often the most difficult part of building an online community. First, use the Pew Research Center's information on social media demographics to see which platform(s) are most appropriate to join based on your desired audience. Don't worry too much about your chosen platform, though; the platform matters, but not as much as bringing people together through whichever medium you want, and are most comfortable with.
Your goal should be to maintain an active online community to drive traffic to your website ultimately. Keep members engaged with your Thumbstopper™ social content. Post often, listen to feedback, respond to user comments and questions, and address audience pain points and primary interests. Adjust your strategy as your community grows and changes. Through all things, empower your group and express that their opinions matter to your company.
Partner with Community Building Experts
Starting and maintaining a thriving online social community can seem daunting; but it doesn't have to be. With the LotVantage Brand Manger, we can help your brand engage the social media audience and tap into your retailer's communities. Connect with us today or talk to us at 813-549-7249
Sources:
https://www.econsultancy.com/blog/70076-what-happened-to-social-communities-do-brands-and-businesses-still-care
https://www.statista.com/topics/2057/brands-on-social-media/
https://www.business2community.com/online-communities/importance-building-online-community-01720478
https://www.convinceandconvert.com/social-media-research/42-percent-of-consumers-complaining-in-social-media-expect-60-minute-response-time/