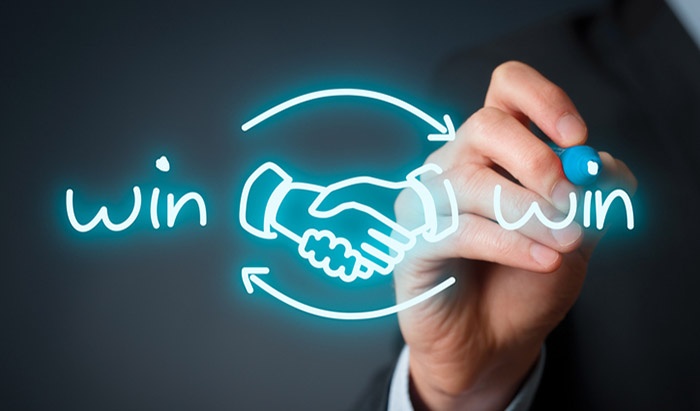 Manufacturers and retailers have a special relationship. It is a symbiotic one in which both parties can benefit one another…with the right advertising techniques. Cooperative (co-op) advertising is one of the most affordable and effective ways for manufacturers and distributors to extend their grasp and reach their target markets. Manufacturers can help their retailers grow by creating co-op advertising programs for social networks. Here's what you need to know.
What Is Co-op Advertising? A Brief Summary for Beginners

In basic terms, co-op advertising is a joint advertising effort established between a manufacturer and a dealer, seller, or retailer. Its purpose is to save both parties money by sharing the costs at the local level. Co-op ads depend upon a partnership between the manufacturer and the distributor. In a co-op advertising partnership, manufacturers give retailers funds based on the numbers of products retailers sell. Retailers benefit from more brand exposure without increasing their ad spend, while manufacturers benefit from an increased business at low cost. Both parties win!
As a manufacturer, it is up to you how high a percentage to subsidize a dealer's advertising budget. The average is between 30-50%, although some manufacturers go as high as 75% or even pay for 100% of advertising costs, depending on the agreement. Manufacturers can decide how much to pay based on the previous year's purchases, a retailer's current orders, or a different time frame. You will base the amount you offer on the volume (and price) of goods the retailer sells, as well as on what your team feels comfortable spending.
As a retailer, you would be remiss not to take advantage of co-op advertising. It is essentially mostly free money since the manufacturer sponsors the advertising. You can receive co-op funds based on how much you purchase from the manufacturer. Every time you run an advertisement or marketing campaign that features the manufacturer's wares, you can receive a reimbursement of your marketing costs up to the pre-determined amount. Again, some manufacturers are even willing to pay 100% of your advertising costs. Local advertisers can benefit hugely from co-op agreements.
Use Co-op Advertising for Social Media Growth
The basic co-op theory is simple: the more you spend on advertising, the more exposure your brand will receive. Spending more money on advertising through a cost-effective co-op advertising system will result in stronger marketing efforts, more branded content across channels, and more buzz surrounding your products as a retailer or manufacturer. Using your co-op funds on social media advertising is one of the best ways to maximize results.
Ryan Brown, Vice President of Powersports at Big Time Advertising, published a post that summarizes the importance of taking advantage of co-op advertising opportunities. Brown expressed his shock when a manufacturer's rep told him that well over $300,000 in co-op funds remained unused each year in his region alone. Failing to use co-op ad money is an alarming mistake on dealers' parts that could lead to manufacturers eventually slashing their budgets. If your manufacturer is offering these funds, make use of them to grow your social media advertising budget and make more of an impact on your audience.
Extend Your Social Reach in a Few Simple Steps
Social media co-op advertising is an incredible opportunity for you as a retailer. Engaging in a co-op program offered by your manufacturer for social media marketing can lower advertising costs and achieve outstanding returns on investment (ROI). Combining your co-op program with social media marketing can be easy and practical. Here's what to do:
1. Get the guidelines.

First, ask your manufacturer for an in-depth description of advertising requirements for your co-op program. Manufacturers will generally require you to be consistent with their branding, such as including certain logos or slogans.

2. Take to social media.

Go digital with your co-op advertising efforts. Social media marketing is an enormous tool at your disposal for connecting with your audience – especially the younger generations of buyers. According to a 2018 study, 42% of millennials and 50% of Gen Z adults say that social media is the most relevant platform for advertisements.
3. Work with an advertising professional.

Use a professional marketer's assistance in connecting social ads your retailers will love. Getting help from social media advertising experts can help you make the most of your co-op program.
You entirely should be taking advantage of co-op advertising programs as a manufacturer or retailer. Put the money toward social media advertising to expand your reach, increase customer engagement, and boost website traffic. The ROI of your social media marketing efforts can be significant when you publish co-op funded ads. Learn more about using co-op programs for social growth at LotVantage.
Sources:
https://powersportsbusiness.com/blogs/dealer-consultants/2017/05/16/utilizing-co-op-to-maximize-your-advertising-budget/
http://blog.makethunder.com/what-is-co-op-advertising/
https://www.inc.com/encyclopedia/cooperative-advertising.html